12-hr Kirtan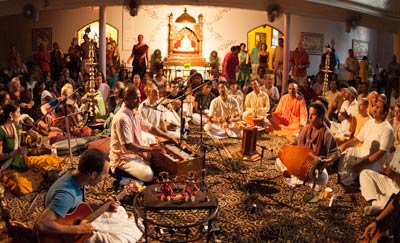 Date & time: Friday, July 13th, 2018 – 10am to 10pm
Location: Hare Krishna Temple – 243 Avenue Road, Toronto, ON
Transit: Rosedale Subway Station (10 min walk) / Dupont Subway Station (12 min walk) / Bay Subway Station (15 min walk)
Chanting, drumming and dancing! Festival of India is thrilled to announce that we will, once again, be holding a 12 Hour Kirtan Festival on Friday, July 13, 2018! Come spend the day at the historic Hare Krishna Temple for an incredible 12-hours of chanting the famous Hare Krishna mantra. Featuring chanters from Switzerland, USA, India, Canada and more, this amazing experience is not to be missed!
Candramauli Swami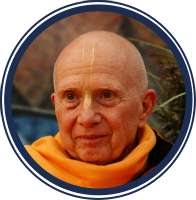 Born in New Jersey, Candramauli Swami first came in contact with the Hare Krishnas in the early 1970s at the age of 24 in Denver, Colorado. Candramauli Swami is best known for his missionary work within prisons. He visits inmates, holds spiritual programs, writes letters, and shares spirituality with inmates around the world. His dedication to the welfare and sustainable rehabilitation of these prisoners has culminated in the book "Holy Jail". In over thirty years of operation, the lives of hundreds of inmates have changed. Originally based in Chicago, Candramauli Swami now spends most of his time in Karlovac (Croatia).
Bhaktimarga Swami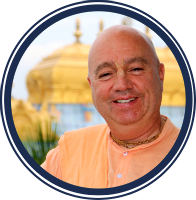 Bhaktimarga Swami, born in Chatham, Ontario, has been a practitioner of bhakti yoga for over 30 years. Based in Toronto, he is a world-renowned instructor of bhakti yoga and mantra meditation. In 1996, Bhaktimarga Swami achieved a remarkable feat when he walked across Canada. He has since walked across the country three additional times and has been featured in The Longest Road, a National Film Board documentary detailing the history of the Trans Canada Highway. He is affectionately known as "The Walking Monk." With a background in fine arts, Bhaktimarga Swami is renowned for his theatrical productions.
Amala Kirtan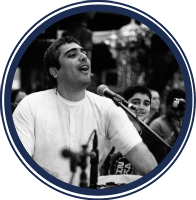 Amala Kirtan Dasa is a world-renowned kirtan singer from Brazil. He has been singing his entire life, performing at very young ages. A father of two and an IT professional by day, he travels every year to share the gift of kirtan around the world. His style is influenced by both Western and Eastern teachers, and his love for his craft can easily be perceived by anyone who hears him perform. His voice promises to move your soul. Amala Kirtan has been performing Kirtan around the world in the traditional way while retrieving the original mood of expressing and singing the ragas.
Agnidev Prabhu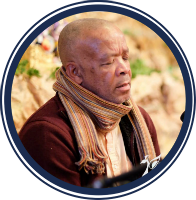 Agnideva Dasa was born in Trinidad and Tobago but moved to New York in his youth. It was there he met the Hare Krishna devotees and became involved in the Krishna Consciousness movement. He was later accepted as a student of A.C. Bhaktivedanta Swami Prabhupada. In 1972 he began publicly performing bhajan and kirtan in the traditional Bengali style. He is renowned even up till today a one of the most expert and devotional singers. Since 2013 he has returned to Trinidad and assumed the service of president of the local Hare Krishna temple there.
Madhuri Pura Dasa
Born and raised in a household of avid kirtan singers and musicians, Madhuri Pura Dasa is a monk who has dedicated his life to sharing bhakti yoga. His father, taught him traditional instruments as a child and he later studied both Indian and western classical music. His style blends modern influences with the ancient art of Kirtan to create a unique sound. Madhuri Pura Dasa travels internationally, hosting mantra meditation workshops and enlivening and energizing communities with his music. Currently, he spends most of his time serving in an ashram in Denver, Colorado, teaching kirtan as well as preparing for his new album.
Madhava Das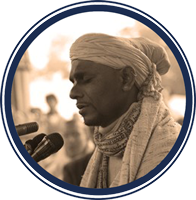 A native of Mauritius, Madhava das was given his first drum at the age of five. At 18, he moved to Vrindavan, a place of pilgrimage in India where musical meditation has been practiced continuously for centuries. He spent the next seven years living in an ashram, learning musical meditation under the direction of the legendary Aindra dasa. While there, he played the mrdanga drum for hours on end, day after day, honing his rhythmic skill and sensitivity.
Unbeknownst to him, through internet recordings he was also becoming an influential figure in the global meditation and yoga scene. You don't want to miss his incredible, soul-stirring musical meditation sessions, that you can catch in our Bhajan Kutir – our tent fully dedicated to non-stop musical meditation.
You can catch him and his incredible chants as part of the explosive closing kirtans on the main stage on both days of our festival!
Krishna Kishore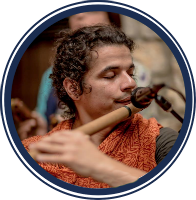 Having grown up in a family that embraces kirtan music, Kish has developed a deep love for kirtan that emanates from him when he chants. As a boy, he attended a gurukula school in the sacred village of Mayapur, India. This is the village where sacred kirtan originated, and he learned the secrets and techniques of kirtan from the gurus who have studied it directly from the ancient traditions. Kish plays mridanga drum, harmonium, and excels in flute, as well as other instruments. His remarkable energy and enthusiasm during kirtan awakens the audience's soul to experience the actual essence of kirtan's love.
Namarasa Dasa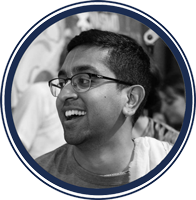 Namarasa Dasa grew up in New Jersey, USA surrounded by kirtan, bhakti, and the loving congregation at the local Hare Krishna temple. In his early 20s, he joined monasteries in NYC and Vrindavan, India. In India, he spent time living in the world-renowned 24-hour kirtan department, at Krishna Balaram Mandir. After a few years he married his wife Tulasi, also an avid kirtaniya. After travelling the world, they settled down in New Jersey. Namarasa currently works in NYC and enjoys serving as one of the organizers of Kirtan events at The Bhakti Center, a yoga and cultural arts center on the Lower East Side of Manhattan.
Tulasi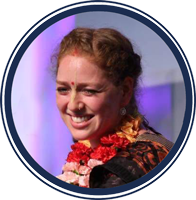 Tulasi, a native of the United Kingdom, was raised at Bhaktivedanta Manor, a mock tudor manor just outside of London which was donated to the Hare Krishna devotees by George Harrison (of The Beatles). As a child, Tulasi attended the gurukula school at the Manor where she spent her time learning about bhakti-yoga and engaging in Kirtan. Tulasi later studied to become a midwife and worked at one of London's most prestigious hospitals as well as supporting many of her devotee friends during their births. After their marriage, Tulasi and her husband Namarasa travelled the world, doing kirtan in many countries along the way. They settled in New Jersey and Tulasi currently works as a Lactation Consultant. When she isn't working, you can find her engaging in and organizing Kirtan events weekly at the Bhakti Center, a cultural hub in Manhattan and as well as at her local Temple in New Jersey.
Jahnavi Harrison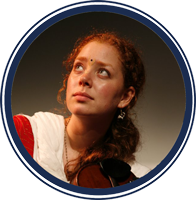 Jahnavi Harrison was born and raised in a family of English bhakti yogis at Bhaktivedanta Manor in Hertfordshire. She is a multi disciplinary artist, trained in Western classical violin, South Indian dance (Bharatanatyam) and Carnatic music, as well as writing and visual arts. She aims to practise and share the rich culture of bhakti yoga as taught to her parents by A.C. Bhaktivedanta Swami Prabhupada.
Since 2009 she has been travelling internationally with sacred music bands 'Gaura Vani and As Kindred Spirits' and 'Sita and the Hanumen', and regularly collaborates with kirtan artists like Krishna Das, Shyam Das, Wah!, Shantala and Jai Uttal and Shiva Rea. She frequently features articles on bhakti yoga and the arts for publications like Pulse magazine, Elephant Journal, as well as her own blog – 'The Little Conch'. She offers workshops in mantra music, harmonium and sacred movement and currently helps to share kirtan with a broad range of Londoners through the Kirtan London project.